Congressman Christopher Lee, shirtless.
So ... "Christopher Lee":
No, that's not the guy.
"Shirtless politician"?
No.
No.
No.
No.
No ... but then again, YES!
So, uh, "shirtless congressman"?
Aaron Schock? Mmmm. But, no.
Scott Brown?
No, not the guy. But yum.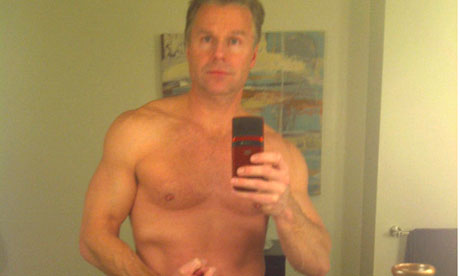 Ah. Yes. That's him. Conservative family-values pol Christopher Lee of NY State. Resigned just few hours after this pic came to light. Y'see, he'd posted himself on craigslist, a well-known pornography ad site similar to WikiLeaks, representing himself to some chick as a 39-year-old single dad. Well, he's 46, and for the moment still married. Described himself in his ad as "fit fun and classy". Yeah, babe, I got a lot of class. Jus' ast my wife ... oops, I mean, DON'T ast her, if y'get what I mean, LOL.
Well, he's clearly spent some time in the gym. Typical stuff. Sitting on a bench, bulking up those guns with excellent curls, and it looks like he's even worked on those delts, and traps. Shrugs, maybe. Good on ya, mate. A bit, what, soft in the middle. Not flabby -- just little-boyish. Like Oakland: there's no there, there. And honestly, he's trying to pass himself off as 39? Ah well, maybe I'm spoiled, by my own superb genetics and superb lifestyle with its superb results, or as I like to say, resluts. But dude -- 39? Just, no. On a related note, I read recently that someone described me as looking 40, and it hurt my feelings a little. 40? Me? Try 34.
As for former Congressman Lee, frankly, yick. Just creepy. At least there's no weener shot, that we know of. Maybe something headless somewhere, but we'd have to go into his blackberry to find that. One of the circles of hell. Huh. Loneliness is understandable. Even betrayal is understandable. So is shame, and resigning quickly because of it. It's all understandable, not because we're all wise, but because we're all fools.
But now you must pardon me. I've just discovered the personals on craigslist, and I'm trying to upload some bodyshots. "Tall, blond, vvvgl, virile 29 year old, totally hot, classy, brilliant, an assload of integrity, hard in all the right places, looking for fit moslem, male or female, for fun times and maybe more if chem is rite. Where you lead I will follow. ddf, hiv neg, ub2."
What a world.
J